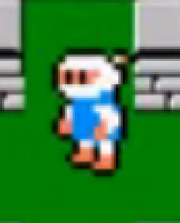 Bomberman is the main protagonist of the series of the same name. He is able to create bombs, and uses this ability to solve puzzles.
He also appeared in old versions of I Wanna Be the Boshy as the boss of World 9. He has since been replaced by Ganon, so the information here is no longer in the game.
Method of Attack
Edit
Bomberman isn't really a boss, just a source of a series of obstacles the player has to avoid. He just drops bombs that the player has to avoid. He always does it in a set pattern, so it can be memorized.
After the player survives long enough, Bomberman leaves, and a portal to World 10 appears.
Ad blocker interference detected!
Wikia is a free-to-use site that makes money from advertising. We have a modified experience for viewers using ad blockers

Wikia is not accessible if you've made further modifications. Remove the custom ad blocker rule(s) and the page will load as expected.